I'm covering two topics in this post today.  The short one (Topps Million) will be first for those who want to cut and run early.
The "Goodness" mentioned in the title is a relative term.  Let's see what my 2006 Topps Heritage style Mickey Mantle code card gets me.
It's a 2019 Topps Heritage style Horace Clarke!  The good news is the cards keep getting vintager and vintager.  The bad news is it's not a great player.  According to Baseball reference, he has his own era.  Unfortunately, the "Horace Clarke Era" signifies a dead time in Yankee history.  His stats are pretty bad, but there are two really cool things about his career.  1) His first two career homers were grand slams.  2) He broke up THREE no-hitters in the 9th inning in year of this card 1970 A.D.  Three in one year!  That's pretty badass.  That's another benefit to this promotion, you get to learn all kinds of cool new stuff about the sport you wouldn't normally look up.
On to the longer section of the post:
The Olympics are still going on from what I understand.  So, to commemorate not only that, but also my first appearance on A Pack To Be Named Later, I give you a pack break.
This product has already been cracked over there by another contributor so consider this a Community Gum Exclusive™.  For the record, we're looking at 1991 Impel U.S. Olympic Cards:  Hall of Fame Series.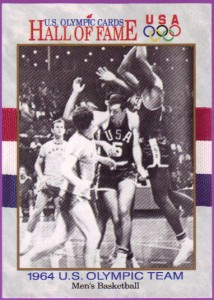 #55 – 1964 U.S. Olympic Team (Men's Basketball) – Way before the Dream Team was a gleam in your father's eye there was a team comprised of "non-professional" players.  These players would play other "non-professionals" from other countries.  Crazy.  These "non-professionals" were really good and the 1964 team (led by Bill Bradley – pictured future professional) won the USA's fourth of five consecutive gold medals.
#81 – Lee Calhoun (Athletics) – A two-time gold medal winner ('56 and '60).  Calhoun was suspending in 1958 for being on a game show and getting gifts.  I suppose that put his amateur status in question?  Seen here lunging (or tripping) to victory.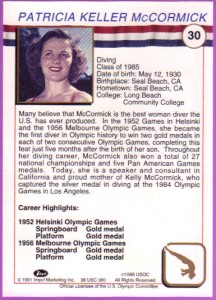 #30 – Patricia McCormick (Diving) – The front is boring so I'll show you the back.  Not a bad resume there.  I really like the mini-bios.  They're very detailed and actually provide some interesting facts.  The little icon in the bottom right is a nice touch, too.
#38 – Tenley Albright (Figure Skating) – Amazing story on this winner.  She contracted polio at a young age and came back from that to become an Olympic medalist.  Not only that, she won one of those medals on an injured leg.  Then she became a freakin' surgeon.  Don't you feel like you've wasted your life now?  Thanks, cards….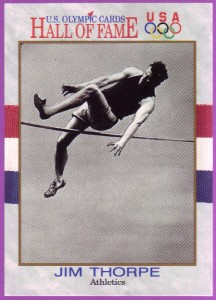 #3 – Jim Thorpe (Athletics – but this should just say "Everything") – Nice.  A Burt Lancaster card!  This is probably the best card in the set (although I don't have a checklist).  What else can you say about the greatest athlete of the century?  Just look at him soar over everything.
#33 – Bruce Jenner (Athletics) – Bet you weren't expecting a reality TV star!  Them Kardashians is everywhere.  The back of the card shows that he had already started his descent into plastic surgery addiction.  I'll spare you the hideousness.
#10 – Don Schollander (Swimming) – Before Phelps.  Before Spitz.  Schollander.  Four gold medals in 1964 (3 world records).  Nuff Said.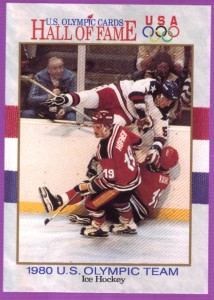 #67 – 1980 U.S. Olympic Team (Hockey) – What makes this card good to me is the old man photographer looking on.  He's kind of like a skeevy Mr. Rogers.  "I am required by law to ask would you be mine, could you be my neighbor."
#8 – Babe Didrikson (Athletics) – The second best sportsperson named Babe.  Third if you count the pig from the movies.
#86 – Distinctive Achievements – Umm…awesome…a card without a picture.  So, as for the other base cards, I know what they're going for with the red, white and blue, but it really looks like the fronts are wrapped in Harlem Globetrotter wristbands.
#48 – Tamio Kono (Weightlifting) – This is my favorite picture.  They should hold all weightlifting competitions outside of my middle school.
#69 – 1980 U.S. Olympic Team (Hockey) – The celebration!  Do you believe in digitally zoomed in screen captures?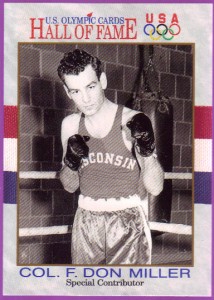 #73 – Col. F. Don Miller (Special Contributor) – I think what he's contributing is a Robert De Niro as Jake LaMotta impression.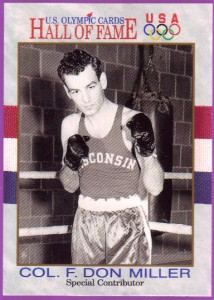 #73 – Col. F. Don Miller (Special Contributor) – Fer cryin' out loud.  I know the set is small enough to basically collect in 6 packs, but why must you Bip me, pack?  Don't you know Thorzul put a moratorium on that?
#78 – Asa Smith Bushnell (Special Contributor) – I've never seen someone about to be buried in an avalanche of old newspapers look so happy.
There you have it.  Not a bad looking product and I got some really good cards out of this sucker.  I must say I think this was a successful run.  I'm going to have a bunch of packs (sport and non-sport) to contribute to that blog so if you liked that little run, head on over and eventually see what I have to say about my Alf packs (yes, 3 different ones)!