How's that for a deceptive post title?! But seriously, Jamie Moyer winning his first game of the season the other day (thus becoming the oldest pitcher to win a game in the history of baseball) happened literally hours after I had a conversation with a non-collector friend of mine.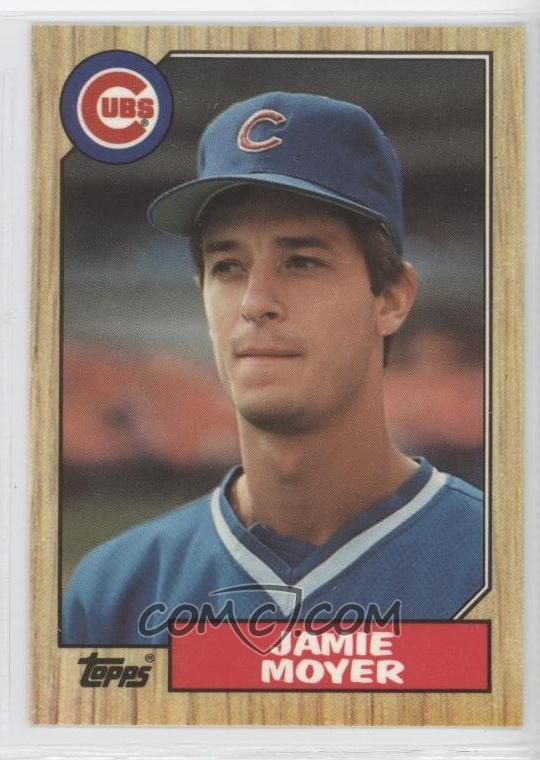 That right there is a 1987 Topps Tiffany, currently up at CheckOutMyCards (who will be gracefully and unwittingly supplying the photos for this post since all the cards I want to showcase are in boxes in my mom's house) and available for purchase for the low low price of $2.50. And it's overpriced by about 10X. I bring this up because, while at my friend's house, I saw his recent Cubs ticket stub. On it was printed an image of Andre Dawson's 1988 Topps card, a card I must have seen more than 200 times in my life. I could draw it from memory.
So I chuckled at it and said, "Oh sweet, you get a bonus '88 Topps for your trouble!" He replied with, "Is that what it is? Is that worth anything" I had forgotten he wasn't a collector as a kid- he's a bit younger and got deep deep into Magic: The Gathering- a different beast all together. But yes, there are still people out there who don't know that the Junk Wax Era (which I define as basically 1986-1992) created literally only a handful of cards worth more than a ha'penny. "No," I replied, "it's not worth the paper it's printed on. Neither is 99.9% of the rest of the stuff printed when we were kids" He was surprised. "But I assume the big Hall of Fame rookie cards are worth something, right?"
He's a Cubs fan so I grabbed the first example that came to my head. A card sharing the rookie year of young Master Moyer up there.
I love this card. In fact, I love anything with that graphic on it. Two years in a row they really got it right for the Cubs- Mark Grace and Greg Maddux deserved the titles. At one time it this guy sold for $15, $20. I wanted one bad. In the Sosa McGwire craze of '98 I took a brief and expensive detour back into card collecting after being out since 1994 or so. I bought some unopened blister racks of '87 Donruss- paying $20 a pop I think- ostensibly to find a sweet McGwire RC to replace my beat up one from my first run as a child collector. But really, I wanted some Maddux love. So I told my friend, "Greg Maddux for instance. His best rookie sells for under a buck." The one you see above has a price of $1.45 and likely won't sell at that price. If you want one of these, you already have one. I think I gave Jon one in a stack of other Madduces I had lying around. No big deal. Of course, the Topps Traded Tiffany actually has some value, but that was a strictly limited set and doesn't really count.
I came home to the news that Moyer had broken the age record and got to thinking about what other current MLB players had rookie cards in the junk era. This guy popped right to mind, of course.
Jim Thome: another Hall of Famer with a rookie card under a buck or so. I don't think the COMC seller wil be getting his $3.50 for this guy. Maybe better luck with the 1991 UD Final Edition.
So who else? Griffey retired so he's out. Thanks to Scott Crawford, I was reminded on Twitter that Pudge and Arthur Rhodes don't currently have MLB jobs. But he did suggest another guy I always forget about.
Omar Vizquel is one of those underrated dudes who just slips my mind constantly (KITH content in link). And his rookie card? You guessed it. asking a buck for this guy. Won't get it. Maybe $.50. Incidentally, Ray Durham is another underrated middle infielder who I always forget exists but he retired a couple years back. Miguel Batista is quite old for a player, but didn't get an MLB card until the mid-to-late '90s. Same goes for Darren Oliver who, as I pointed out on Twitter, started the same year as Tim Salmon (whose rookie cards are even less valuable than the guys above, despite his 29HR/162… and his never being named an All-Star). I guess maybe this guy counts:
It's an XRC, of course, but it was available in packs. I know because I bought a bunch trying to get a Charles Johnson USA card (the Marlins were gonna RULE their first year!). So I guess it's on the fence. I also don't know how this guy still gets to play and Anthony Rizzo sits in AAA but whatever. Oh, but of course it also reminded me of an obvious guy I haven't mentioned yet:
This is a terrible baseball card for a first ballot Hall of Famer like Chipper Jones. Easily the worst of his 1991 cards, and there are a few (including a USA one just like that Giambi up there). But I wanted to show Score in here somewhere. Let's see if I can find a Fleer of someone now… Ibanez had an RC in 1996 Fleer Ultra (as a catcher LOL) but that's out of range… Bartolo Colon, too. Almost had a chance to include a Stadium Club XRC for Paul Konerko, but 1994 Draft is still 1994. Damn you for retiring last year, Matt Stairs!
The point is, we've got a whole generation of players with worthless rookie cards. That's not the end of the world, really- on the one hand, it means people like you and me can get a Junk Era Rainbow (one of each brand and type) of rookie cards for some of the greats. In fact, that sounds like a lovely goal… perhaps I'll add a Chipper Jones JER to my goals for the year. But, on the other hand, we've got some of the greats with rookie cards that do not reflect their greatness- both in quality and value of card.
Here I just focused on players still playing in the bigs- did I miss anyone? What are some of your favorite worthless rookies? As a child of the '80s and '90s, I'm absolutely fascinated with this era (and my dumb luck that it coincided directly with my collecting years) so let's hear it!