[The eighteenth in a series:  I'm picking one player that I associate with a team (whether they spent the majority of their career there or not) that I would strongly consider adding to my official want lists.  They may not always be superstars, or the most popular, and honestly they may not always be my favorite player from the team, but that's what will make this fun, no?]
I recently went to San Francisco for a pseudo-anniversary vacation.  The city is my wife's home away from home since she lived there (and Oakland) for a few key formative years and has several close friends there.  She usually makes her way back every year or so, but it was my first visit since we drove across country to move her back to Chicago in about 2010 (I think. I'm not great with keeping dates straight.).
San Francisco is a wonderful place to visit and I enjoyed my time walking around, but I personally could never live there (even if it didn't cost an internal organ a month to rent a 1BR, zero bath studio apartment).  I'm happy walking around there, but taking public transportation is kind of annoying.  And driving, which is my preferred mode, would make me insane with the hills and impossible parking and confusing street set up.  I wouldn't want to leave my house.
I'm getting off track.  Part of my visit this time was to go to a Giants game.  I'd never been to a non-Wrigley MLB park before!  Honestly, I have no idea how it compares to other ball parks, but it seemed pretty nice.  They had escalators in certain parts.  That's new to me.  It smelled clean (compared to the normal smell of the city, which is a mix of garbage and marijuana – and occasionally fish if you're closer to the bay).  We had a nice view in the upper deck, virtually in line with the first base bag looking straight out at the giant wire frame neon Coke bottle and mitt.
It was Willie Mays' 85th birthday, and every fan got a little poster to commemorate it.  But, for some reason, that wasn't the big promotion of the night.  We were there for Metallica Night, and we had the special tickets to take home one of these: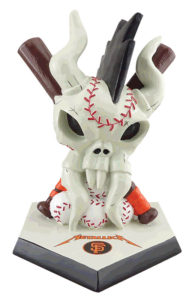 They are surprisingly heavy, sturdy and well made.  This isn't some cheap plastic toy.  You could hurt somebody with this.  Pretty cool.  We have two and don't need a double, so if someone's interested, I could be talked out of it, otherwise, we might sell one on ebay.
So, Metallica guitared the national anthem and God Bless America and did the 7th inning stretch, etc.  That was cool.  But I'm still very confused as to why Willie Mays wasn't the focus.  I mean, the team had 84 years to prepare for this night.  And he was there!  There was a point where the stadium sung Happy Birthday to him and they showed him up in some VIP club house suite.  Even better is that in between innings, they played video messages on the scoreboard to share their personal Mays memories and well wishes, including ones from Barack Obama and Vin Scully.
The only thing I can think of is that maybe Willie didn't want to be running around doing all this stuff, and the Giants knew that.  I hope that's all it was.  Either way, it was a fun night that ended in a Giants win over the Rockies.
With story time out of the way, let's dive into my pick for the series.  I'm choosing Kevin Mitchell.  He was a key part of the Mets team that I loved growing up.  He was probably my third favorite behind Doc and Straw.  He also happened to win an MVP with the Giants in 1989.  Aside from that, he would be pretty easy to collect, since there are very few contemporary cards made of the guy and he missed the vast majority of the insert and parallel bloat eras.
Current player runner-up:  Angel Pagan
I liked him as a Cub back in the day, and I'm glad he found a regular role with a team that could get him a ring.  I would have picked Hunter Pence, if only for the fact that he uses Quad City DJ's "My Boo" as his walk up music, but he has cards in the Moments and Milestones set and that's tough to take on – even hypothetically.
Retired player runner-up: Willie McCovey
Mays is too expensive.  Bonds is meh.  Those are the only others I might consider.  McCovey has a damn cove named after him.  He was also a ROY and MVP, a 6-time All-Star and first ballot Hall of Famer.  Yet, I don't think he has enough clout in the collecting community.  That should change.
The Series So Far
Angels – (tie) Jim Abbott & Vladimir Guerrero
Astros
Athletics
Blue Jays
Braves – Steve Avery
Brewers – Bob Eucker
Cardinals – Jim Edmonds
Cubs
Diamondbacks – Randy Johnson
Dodgers – Jackie Robinson
Giants – Kevin Mitchell
Indians – Jim Thome
Mariners
Marlins – Giancarlo Stanton
Mets – (tie) Darryl Strawberry & Dwight Gooden
Nationals/Expos
Orioles – Adam Jones
Padres
Phillies – Mike Schmidt
Pirates –  Andrew McCutchen
Rangers – Nolan Ryan
Rays/Devil Rays
Red Sox
Reds – Eric Davis
Rockies – Carlos Gonzalez
Royals
Tigers – Alan Trammell
Twins
White Sox – Paul Konerko
Yankees