First of all, Jon and I were both overwhelmed at the outpouring of support and congratulations and whatnots on the announcement of our 1st anniversary! It's been a blast so far and we can't wait to see what the new year brings.
Second of all, we announced that there would be a contest to give away the contents of a 2010-2011 Panini Timeless Treasures Basketball tin that we received to rip and review from Panini. To enter the contest, all you had to do was leave a comment and many obliged. Jon and I agreed beforehand on what the winners would be/receive and, more importantly, what qualified as a "Winner."
The winning qualifications were all based on our first anniversary in some way or another and, once the qualifications were in place, we popped the winners and prizes into the old Random.Org-anizer to get our results. It's no Pack Lottery Contest, but Jon's contest-abilities far outshine my own. I'm doin' the best I can here, folks.
So, without futher ado, here are your winners and their prizes (complete with descriptions of what exactly they did to win)!
Winner #1
Matt H.
This one was a softball (for us, not Matt). In honor of our 1st anniversary, Matt H. wins for having the 1st post on our anniversary contest post!
Matt H. is the proud winner of the Josh Howard jersey and the three base cards we got from our box! However, Matt didn't leave an email address for us to contact him, so drop us a line to claim your winnings, Matt!
Winner #2
gokings02
A semi-softball.  Gokings wins because he was the 12th comment on our post! I was a little worried that we wouldn't get there but, obviously, my worries were unfounded. Thanks gokings02!
Mr/Ms. gokings02 wins arguably the most coveted prize of the package in the sweet Paul Pierce patch. Look at that sticking just leaping out towards LA, where I assume that all Kings fans live. However, gokings02 also didn't leave a contact address, so dial that number and tell us where to send this gem!
Winner #3
Dawgbones
Frequent CG commenter and trade partner Dawgbones is our third and final winner because his lengthy and awesome comment happened to contain the 365th word posted in the comments (names, dates, etc. not included). For those keeping track at home, that word was "you." I'm so vain.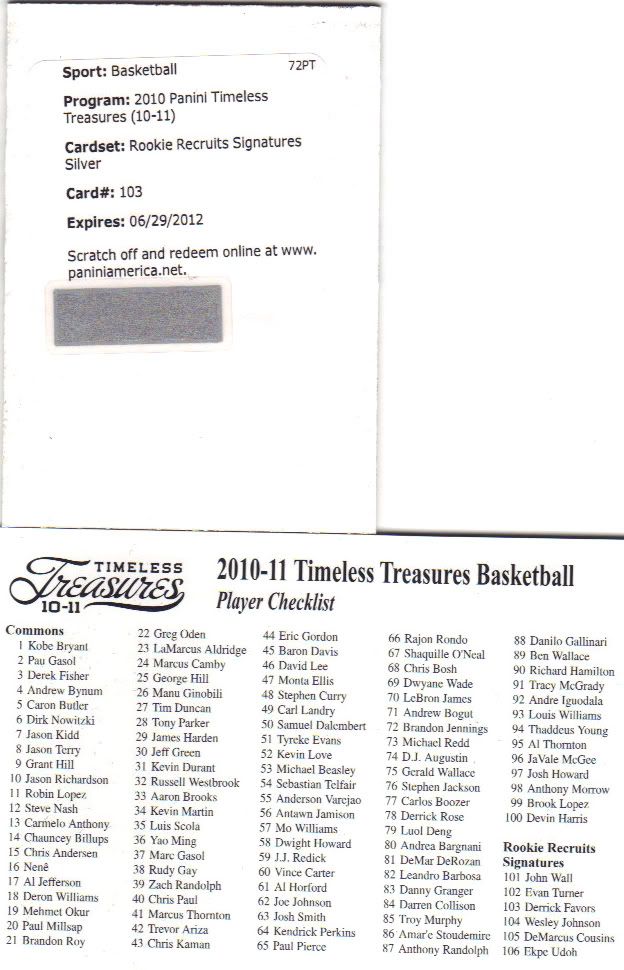 Dawgbones gets our sole autograph from our pack! I don't know who Derrick Favors is, but he's a rookie and rumor has it that rookies are good cards to have. I've been out of the game a while though. Luckily, we do have Dawgbones' contact info so he'll be getting a notice via… I was trying to nail a dog-related messaging form to the end of that there but I am just not on tonight.
So there you have it. One year (and one contest) done and done. Thanks again for everyone who reads, whether you comment or not- we've enjoyed the hell out of our first year and next year will be more communitier, more gummy, and more a third thing that doesn't work because we've only got two words in our name.
Ugh. It'll get better, I promise. Thanks again!