Well, I'm sick as a mub up in this piece, but this little gem made me smile a bit: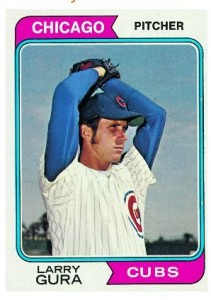 Not only another Cub… not only a pitcher (to go along with Jon's theme of pitchers and catcher reporting in Cubs camp yesterday)… but also the oldest card we've pulled from this contest so far! We're working our way towards a respectable haul here. We've got about 8 more of these puppies and Jon picked up some blasters and packs at Wal-Mart yesterday so we're bound to have a few more. A hundred bucks says our one a day rule doesn't last another 4 days.
What's the best thing someone's seen pulled from one of these? The '66 Mantle I heard about on Blowout was pretty amazing… I can't wait to see what condition these things are in. I'm guessing they'll be of Heritage buyback-quality… which is to say, not the greatest. And I certainly hope they don't stamp these. What a tragedy that would be…
Speaking of Heritage (and tragedies?), I'm hearing word that this year's Heritage (based on the 1961 set) is launching next week. I've been a Heritage fan for a long time but my interest in trying to put the set together has faded with the addition of the High Numbers and some extra non-relic/auto inserts. I'd love to see this year turn me around, but if the "stamp relics" are any indication, I'm not going to be sold. Any thoughts on this year's set?
That's all for me today- and here's to feeling better tomorrow!